"If we don't have engaged kids, what do we have?" ~ Carol Salva
Last week, I was Carol Salva's guest on Stephen Hurley's radio show. We talked about the 85/15 lesson structure that I referenced in my last blog post, skills practice, and sequencing lessons with the focus on fundamentals. This week I planned to write about sequenced grammar lessons, but Carol asked something during that segment that made me rethink the topic for today's blog,
"If we don't have engaged kids, what do we have?"
So simple, and yet so profound! Engagement is the crux of the matter! If we don't have engaged kids, it doesn't matter how well your lesson is sequenced and how much time you allot to practice. So, let's take a closer look at the king of education buzz words- ENGAGEMENT.
What keeps students engaged?
Relevance
Ignite that chispa!
Relevance is a complex concept. On one hand, we tend to connect to the familiar and on the other, we are driven towards the unknown. It would be too limiting to see relevance as something that is directly linked to our background or to our daily existence. I believe it is so much more than that! Teachers often inspire us to venture into the unknown by "igniting that chispa," that spark of curiosity that sets our brains in motion.
Making connections to students' prior knowledge is of utmost importance. According to Marilyn Jager Adams, "Prior knowledge about a topic is like mental Velcro." The more familiarity we have with the topic, the easier it is to acquire, organize, and store new information on that topic.
Dr. Lora-Beth Escalante, offers these practical techniques to bridge content connections and make new learning relevant: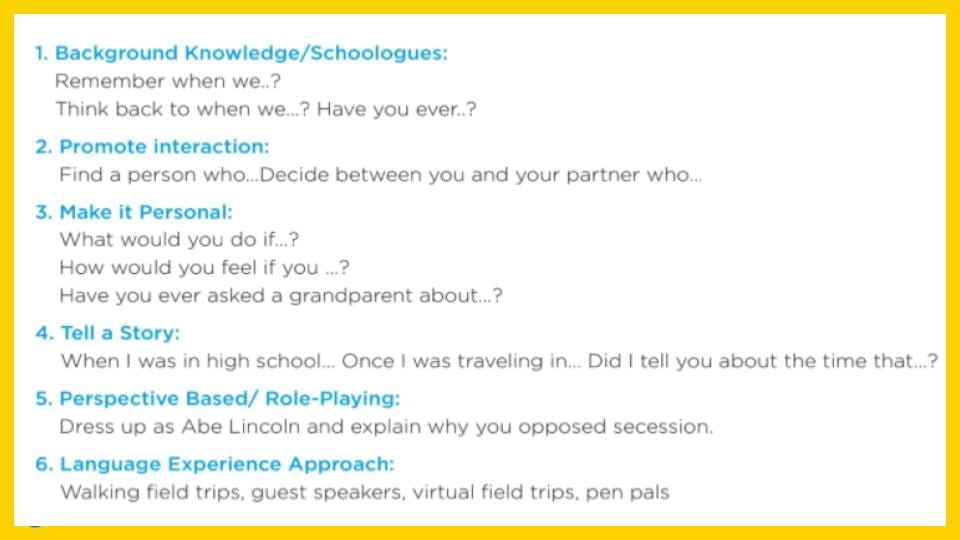 Success
Experience small bursts of success!
We like doing things that we are good at, things that make us feel successful and competent. Very often students who have NEVER experienced success at school have very low expectations of themselves. Experiencing small bursts of success during academic activities builds students' confidence. Having tasted success, we start craving it and become willing to work for it. Participating in the activities that are challenging and yet at the level where success is perceived as feasible builds intrinsic motivation to stay engaged. Providing targeted scaffolding and linguistic accommodations (from IDK posters to tiered sentence stems) assures students that we are here to help them and to celebrate their successes with them!
Joy
Enjoy the ride!
We need to enjoy the process to stay engaged. Enjoyable process is often a valid reason to engage with the class even if the content is less than exciting. For instance, as as a parent, you play a board game with your teens. You are not motivated by achieving world domination in Risk. You are motivated by the enjoyable process of spending time with your children.
In a similar way, unmotivated and disengaged students (who are not thrilled about the content of the lesson) can still be enticed to participate by a carefully structured process, the process that includes something most students naturally enjoy – opportunities to move, to talk to peers, and to feel successful.
So, let's make skills building sets as interactive as possible!
However, this does not mean that there will be no quiet/silent time during the lesson. In fact, strategically placed throughout a lesson, processing time is critical. Without sufficient wait time to process information, students may not feel confident to participate.
Here are some ideas to incorporate into every lesson to engage all students with the academic content.
At the start of the lesson
After 7-10 mins lecture
Hands-on structured reading and writing
What can we do in 45 mins?
Objectives 5 mins.
Video 3-5 mins.
Lecture/ modeling 10 mins.
QSSSA 5 mins.
Structured Reading / Writing 15 mins
Exit Ticket with a sentence stem 5 mins.
In reality, every component will take much longer because students need time to find paper, open books, and greet a partner. And, yes, to ask to use the restroom at the most inopportune moment! And if an authentic opportunity presents itself, ditch the lesson plan and seize the teachable moment!
Teaching is just as much art as it is science!